Sometimes I get an idea in my head and I just can't get rid of it. Current idea: building a tiny house. I have been renting a home for the last 4 years. Before that I rented an apartment for my Chicago seminary years. I am so, so, so thankful for these great renting opportunities. Throughout my 20s, renting was the ideal option. It continues to be a great, amazing, wonderful option as I pay off my college and seminary student loans and work toward a debt-free life!
My current place is beautiful and serene. Thankfully, it is fully furnished which is great because I own very little furniture. Renting has been a great option, but lately, I find myself considering the possibility of buying/building a home in the next couple years.
But I really want it to be quite tiny.
Here's a little bit about the "Tiny House Movement."
And the
Small House Society
. Maybe my tiny house could look something like these....
(very handy with the garage space built-in)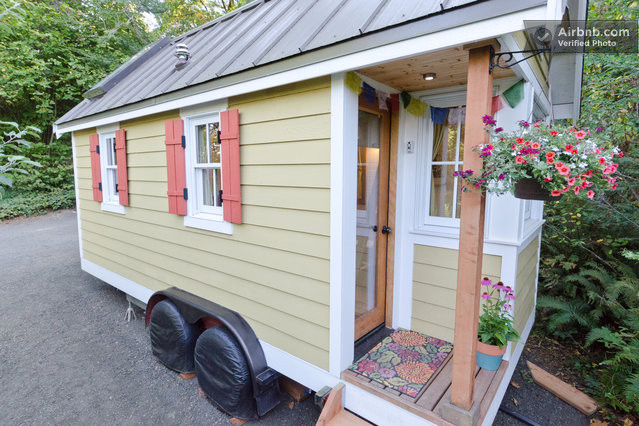 The more research I do, the more convinced I am about building a tiny home. Things I don't have a clue about: zoning regulations, plumbing regulations, and building permits.
The reasons I think a tiny home might work for me: I live by myself and plan to continue to do so, I don't have/want very much furniture, and I'd like to own a home without breaking the bank.
In order for my tiny home plan to move forward, I'll need to:
-Save at least $15,000-$30,000
-Find a trustworthy, inexpensive contractor (or learn to build my own house which would be awesome)
-Buy a little piece of land or talk someone into letting be build my house in their yard
I definitely want my tiny house to have the option of both electricity (maybe helped by solar panels) and water.
Have you heard of composting toilets?
Maybe I'm losing my marbles. I did a little more research last night after book club.
It seems so smart.
Building a tiny house could easily be just another silly Emily idea, but I've been chewing on it for awhile. I think it might be right for me.
I'd love your suggestions/tips/thoughts/alternatives.
PS: Want to help me build a house?